Streamer Quick Start
Want to get into streaming?
Here's a crash course on tools that we have tried, tested, and found that were good.
TLDR
Direct links to a few things on this page
Overview
This post is based on our personal experiences. It's not meant to be an in-depth review but the quickest, simplest way to get from 0 to streaming with as much quality as possible!
You can leave any questions or suggestions in the comments below. We'll try to update this page as needed and create advanced posts in the future!
Also, in an effort of full disclosure, some of the links on this page are a referral or affiliate links that give us a portion of any sales made.
Hi, I'm Sunny the Meowl!
If you see me next to an entry that means that's what we recommend for new streamers!
Streaming Software
The first thing you'll need. Something that actually lets you stream!
OBS and SLOBS are two of the most popular streaming software that we've tried.
Twitch Studio
Twitch's very own streaming software designed for simplicity form the ground up. This is the newest streaming software and lacks a lot of advanced features but if you want to get up and running QUICK this will get you going while you can learn OBS.
Guided Setup
Walks you though step-by-step settinging essentail items like mic, camera, bitrate, and more!
Built-In Notifications
No need to mess with overlays. Direct integration with Twitch has notifications for major events like follows and subscribers!
Pre-Built Layouts
Twitch Studio keeps it simple with 3 of the pre-built layouts for the most common types of fo content. You can add more later, but this gets you going with the essentials. 
StreamLabs OBS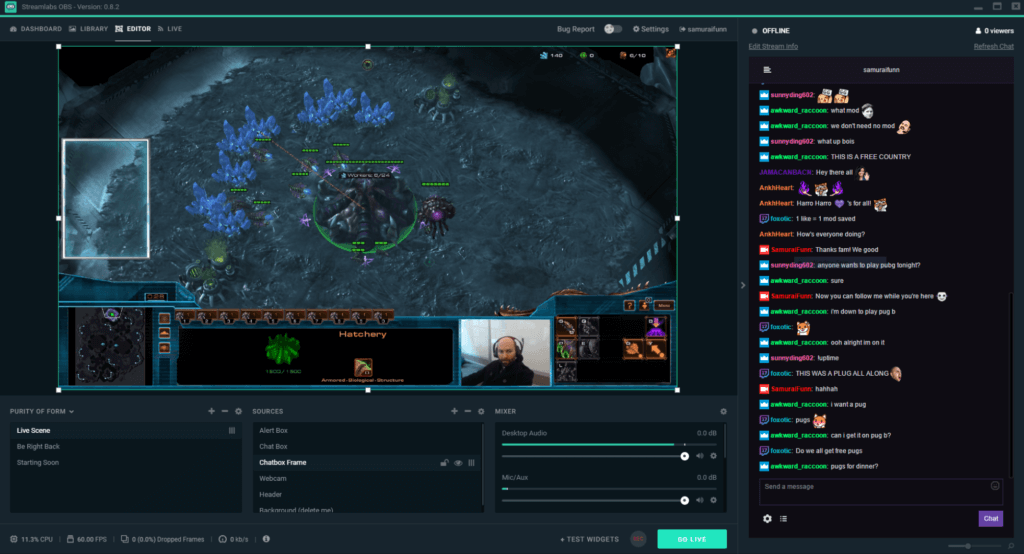 SLOBS is StreamLabs' fork of OBS. It's more user-friendly but not open-source and fairly locked down. Instead of plugin support. StreamLabs works at integrating such features directly into the software. It's more of a walled garden experience but if you're using StreamLabs for your alerts and other things its cloud sync support makes it a no brainer.
User Friendly
SLOBS has a much more user-friendly interface and very helpful alerts about issues like dropped frames.
Cloud backup & Sync
Never lose your streaming settings. Easily stream from different computers. All settings and media are synced!
It's amazing for us we stream from at least 2 different locations!
Overlay Integration
StreamLabs overlays are directly integrated into SLOBS. They're easy to add and change all without leaving the software.
When we stream, its the only program open on our streaming computer!
OBS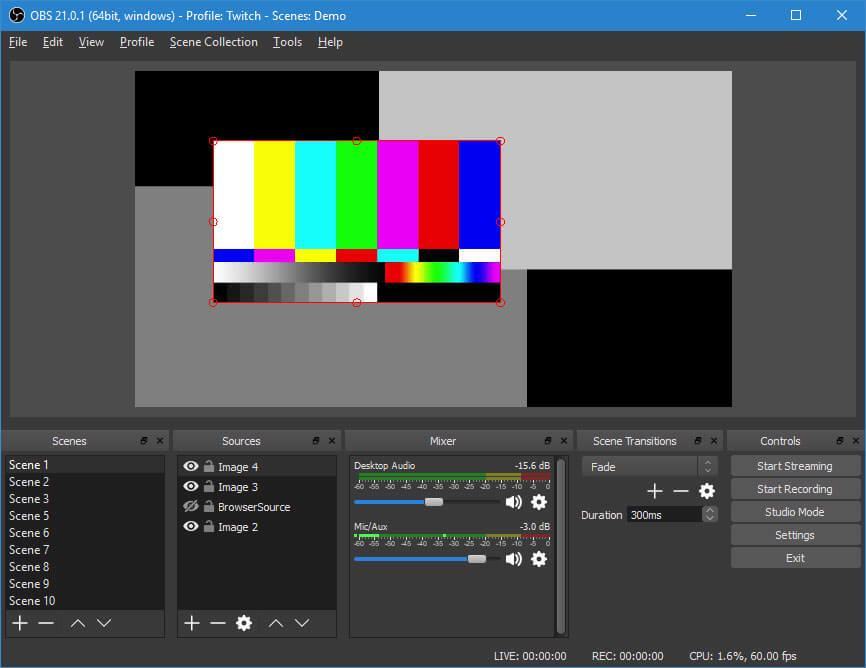 OBS stands for Open Broadcasting Software. It's FREE, open-source, and very powerful. It's the typical starting point for most streamers. It does its job well and updated frequently. It also has robust support for plugins.
OBS.Live
If you use StreamElements to manage your overlays. OBS.Live is a plugin make for OBS that gives you similar features to SLOBS.
Plugin Support
Plugins can be created by anyone and easily added. There are some really powerful ones that can help you automate scene switching and even add 3D effects!
Frequent Updates
OBS gets updated a little more frequently than SLOBS and it gets more bleeding edge features first
Don't have a gaming computer?
If you only have a console check out the console section for some tips. 
Audio
One of the most important things: audio
One of the major reasons people will stop watching is because of bad audio. Do yourself a favor and get something better than that webcam or headset mic!
Audio is super complicated and one of the hardest things to get right. Even WE are still working to improve our audio. There are so many different variables and situations it's hard to summarize everything in a short post so take this information with a grain of salt! 
USB Condenser
Gets the job done
Plug n' Play

No extra hardware needed

Better than nothing

Not best quality

Lots of room noise
Shure SM58
Best Bang for your Buck
Amazing sound for the price

Does well with noise

Trusted in the industry

Needs an amp

Probably also needs a preamp
Clip Gaurd technology

0 Latency Monitoring

9 Channel mixer software

Software lock-in

Pricey accessories
Shure SM7B
Super High Quality
Does good in noise

Levels above SM58

Professional radio hosts trust it

Needs an amp

Probably should get preamp for this
Important note: anything besides a USB microphones needs additional hardware!
Generally, this means you need a mixer to add gain and power to your mics.
Condenser Mics: need to be powered by phantom power.
Dynamics Mics: have a very low output and need to be boosted and generally need a preamp, like this SS-1 preamp.
A cheaper alternative when you're just starting out might be to invest in a good pair of headphones, like the Turtle Beach Elite Pro
Audio Mixer: Yamaha MG10
This is the mixer we use (except the MG10XU version with sound FX), it has phantom power and provides very clean gain dynamic and condenser microphones.
Has compressors for lines 1 and 2. It also has USB interface into our streaming computer which allows us to send audio BACK into it so we can monitor the stream and our mics at the same time via the mixer.
It's a little more expensive but the benefits outweigh that for us.
Voicemeeter

Voicemeeter Banana is an Advanced Audio Mixer Application endowed with Virtual Audio Device used as Virtual I/O to mix and manage any audio sources from or to any audio devices or applications.
There are three versions with different amount of virtual I/O: Voicemeeter, Banana, and Potato.
We use Banana to separate game audio, our voice, and Discord onto different audio sources in SLOBS so we can level them independently.
It can be confusing to use at first but it's a good idea to try to master it early on so you can have great audio control for anything you want to do.
Cameras
Unless you have good reason not too, it's recommended to have a face cam on your stream. It helps viewers connect with you and adds authenticity to your streams. 
Cheap

Trusted standard

720 and 1080p @ 30fps

No 60fps

Not great in low light

Very old
An upgrade to the old C920

720p @ 60fps

1080p @ 30fps

Glass Lens

Still not great in low light
Professional grade webcam

4K Output

Better in low light

HDR

1080p @ 60fps

 90fps @720p

Requires USB 3.0 for higher resolutions and speeds
Mirrorless Camera
The Best
Best low light support

Highest quality image

Optical Zoom

Real depth of field

Auto settings in-camera rather than software

Requires additional capture device
Here's essentially four tiers of price and quality.
While the C920 is very old, it still works well if you have enough lighting.
The C922x is basically the same with 60fps support.
The Brio is a professional webcam that supports 4K for crystal clarity.
The best is using a high quality camera ($500+) with a capture device like a Cam Link.
We use a  Sony a5100 for our mirrorless camera that is plugged into an extra Elgato HD60 S, but a Cam Link will work fine.
If you already own a camera with HD HDMI output that won't overheat while left on for a long time, then buying a Cam Link might be an affordable option that produces an extremely high-quality image. 
Lighting
Now with a camera you need lighting!
Webcams especially need a lot of lighting to maintain smooth frame rate and it's important to have even lighting with low shadows if you want to use a green screen for chroma key.
Vanity LED Kit
Amazing for the price
Very cheap

Very bright

"Beauty" light looks very good

Needs bezel to be mounted on

Works best on TV
Soft Boxes
Professional Quality
Very bright

Even lighting

Great for green screen

Bulky
Elgato Key Light
Elegant Solution
Soft, even lighting

Adjustable color tempreature

App and Stream Deck support

Pricey
Green Screen / Chroma Key
Chroma keying your background is totally optional but and give a nice high quality look to your stream.
Green Cloth
Most versatile
Useful beyond chrome 

Covers a large area

Prone to wrinkles

Takes up a lot of space
Webaround
Simple and Cheap
Simple

Compact

Only good while sitting

Not much coverage
Elgato Green Screen
Easiest
Easiest to setup

Compact storage

Pricey
One-time set up

Price depends on the area you want to cover

Good foor dancing!

Can get pricey for a whole room

A large commitment
We started out with muslin and some green cloth. The Elgato Green Screen didn't exist at the time. It worked pretty good for us, it was a bit annoying to set up the muslin every stream but now that we've moved on to a painted green room we still use the fabric from time to hide things that get into the frame or just for laughs and we can still use the muslin for photo shoots.
If you were interested in green paint, we got ours from Home Depot and asked for Gama Sector Green.
Bots
Leverage automation to help your stream!
A good bot should: automate anything you do repeatedly, make your moderators' job easier, and make your stream more fun and engaging. 
Phantombot

An open-source bot that is powerful out of the box only gets better with customization. This makes it the best bot. It's capable of doing anything you want (with some coding). It's not the easiest to run but it pays dividends over time.
Open source
Users and fully modify, add, and share code. There are even custom modules other users have made on their forums!
Customizable
Want your bot to have its own name? Yep!
Want to change something about the bot? If you can read the code you can do it!
Powerful
You host it, you control it! Access the database, ping the API, build web pages out of it!
Pretty much anything you can think of is possible. You're not limited by what someone else has provided to you.
StreamLabs / StreamElements Bots
The easiest bots to use are cloud-based bots. You already spent all that time setting up StreamLabs or StreamElements using their bot is just logical. One place for everything saves times and headaches. An alternative to those two would also be Nightbot.
Cloudbased
Don't have to worry about setting up this bot! It's all ready go and very reliable.
Popular
These bots will probably be around for a while and probably not going to do something bad to your channel.
Integrated
Full integration to our overlays and tipping sites. It's a lot easier to make sure everything is working correctly.
Console Streaming
Streaming directly from a console is a great way to get started streaming but it really limits the things you can do with your streams like adding overlays and scene changes. From the start, you should consider streaming using a PC.
The best way to do this is with a capture card. It's a device that allows you to have HDMI Input into your PC.
The benefits of streaming from a console are that your computer load is more stable. You don't need a good gaming computer to game AND stream, just one that can handle streaming alone. So the cost of entry is a bit lower.
There are basically two main devices: Elgato HD60 S+ or Elgato 4K60 Pro
The HD60 S+ is an external card that requires USB 3.0
The 4K60 Pro is an internal PCI-E card. It's technically better and easier to use than the HD60 S but obviously, you can't take it with you or let a friend borrow it.
We use four HD60 Pro cards between all our computers and (two for two-player co-op) and one HD60 S for our webcam
Alternative to capture card
A low-cost alternative is to use PS4's and Xbox One's remote-play features that stream the console to your PC. This produces low-quality video but it can work as a stop-gap as you're saving up for a capture device.
Discord: Link Your Accounts
Maybe obvious for some but if you're new to Discord and didn't know, there is a way to link social media profiles to your Discord account!
Go to User Settings and then Connections
Connect as many accounts as you want and when users click on your profile they'll be able to find you on any of those platforms you listed as public.
And if you're an Twitch Affiliate and run your own Discord server you can link your entire server with your stream so subs are given a special role!
This is found in the Server Settings under Integrations
FFZ Emotes
You want more emotes for your channel beyond the 3 for affiliates? The best way to do that is with FFZ & FFZ:AP plugins! WIth both these plugins you can see all FFZ and BTTV emotes!
Everyone in your chat will also need to have the plugins installed to see the emotes so its best to encourage loyal viewers to install this plugin combo.
After you've installed both plugins go to frankerfacez.com to setup your additional emotes!
Quest Mode
We've tested a few different methods for adding some revenue to our streams and Quest Mode has been one of the bests and works even when you're new to streaming.
Your viewers AND you simply install games, complete quests, and earn points. Points can then be redeemed for subs on your channel!
Most quests are free or the In-App Purchase costs less than the rewarding sub.
Its a win-win from our viewpoint and our viewers love it!
Music?
Something a lot of streamer overlook is that music is someone else's creative work and you're not allowed to use it without permission.
Streaming copyrighted works puts you at risk of being banned.
Pretzel Rocks
Our personal favorite. It 's super easy to use stream-safe music for livestreamers
Twitch, Mixer, YouTube and Facebook safe music, don't get DMCA'ed
Monstercat
Monstercat has lots of high quality music if you're into electronic.
It costs $5/mo, the same price as a premium membership with Petzel.
Our stream
If you want to see some of this in action, ask us questions live, or just want to watch a really funny stream we'd appreciate if you watched some time!